Is This the End of Retail Just-in-Time Inventory?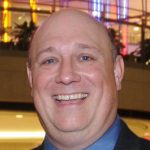 If there is one thing that has come out of COVID and resulting events since for retailers is that that the current retail supply chain is broken. For the last 25 years retailers moved from a resilient mixed supply chain with manufacturers domestic and abroad to one that is as much as 75-90% reliant for finished goods from oversees and has over 90% exposure to raw materials from overseas (even local farms require fertilizer). The promise of cheaper products led to a rapid increase in consumerism around the world and record profits for two decades.  But then COVID happened…and the retail supply chain broke and will take I estimate 5-7 years to fix appropriately.
IHL releases this week our latest study called the "True Cost of Out-of-Stocks and Overstocks – Can Retailers Handle the Truth?" The overall cost of Inventory Distortion in 2022 has reached $1.9trillion worldwide, a figure that is roughly equivalent to the total organized retail economy of Italy. These are sales lost to retailers for not having what the consumer wants to buy when they want to buy it.
Yet as we look at the entire inventory distortion issue, it is often hard to cut through the news to understand that performance is actually improving on an individual retailer basis when systems are deployed properly. But IHL estimates that nearly $1 trillion of the $1.9 trillion inventory distortion issue is the result of a just-in-time inventory system that relied too heavily on production in a small handful of countries. Add in a pandemic, port shutdowns, governments determining who is an essential retailer and who is not, and an unexpected war between two countries controlling raw materials significant to the economies of the world and the job of getting inventory correct is a nearly impossible job at the moment.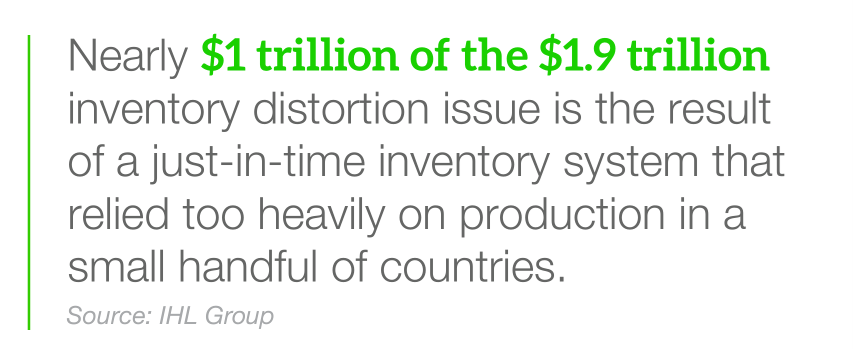 In conference rooms around the world, retailers are trying to decide the ratio of Just-in-Time Inventory vs Just-in-Case Inventory. And that ratio is different by type of merchandise. We fully expect the largest of retailers to do their own analyses of their markets, suppliers, and products to decide what is essential and those that are more discretionary to be better prepared for the next external disruption. They will choose more domestic suppliers and near-shoring for the most critical categories, perhaps even increasing warehouse space. In so doing, they can be better prepared so as to not be caught off-guard in the future due to a lack of raw materials or port shutdowns.

On the surface it might seem easy…decide what we never want to run out-of-stock on and other items you can't risk being in an overstocked position if demand dries up. In practice, this is incredibly difficult.
The biggest initial concern for moving to a Just-in-Case approach is the availability of warehouse space.  In the Inland Empire area of California, there is reported less than 1.5% of warehouse space available and in the US nationwide it is less than 8%.
And while shortage of warehouse space is first concern, the bigger question surrounds whether or not investors will allow companies to make such changes. While large public retailers have economies of scale advantages, moving to a Just-in-Case approach means holding onto more inventory – something that the market has destroyed retailers for doing in this past year. But being better prepared for disruption means more infrastructure, more inventory, and lower profits in the short term for more redundancy in the future. For those of you in the software business, this is akin to moving from an on-prem license approach to SaaS pay-as-you-go approach. It is an extremely painful approach for investors to accept and endure and retailers do not enjoy the same level of margins and market forgiveness that we see for tech companies.
Despite these headwinds the smartest retailers are not only making these changes towards a more secure supply chain and doubling down on these technology improvements to be best positioned regardless of the future.
These retailers are adjusting to move from being reactive to being proactive in their preparations through better systems and processes. Finally, it is important to note that as my friend Paula Rosenblum says often, technology is not a savior here. The problem of inventory distortion is much bigger than what technology alone can solve. But technology is the great enabler that will separate those retailers that survive and thrive from those who barely make it in the next decade. And the days of Just-in-Time Inventory as the sole model may be limited.
Please join us as we release the latest data on Out-of-Stocks here.