COVID-19's $11.5b Impact on IT Spend
Worldwide, COVID-19 is having disastrous impacts on consumer spending.  IHL's current forecast for consumer spending is a reduction of $1.6t in sales worldwide, just under 10%.  And it is the smaller retailers losing the most by far.  But not all segments are doing poorly.  While Specialty Stores and Departments Stores are struggling, and Hospitality segments are seeing significant drops (combined $1.8t reduction in sales from 2019 levels), the Grocery/Drug/Mass Merchants/Warehouse Clubs are in position for a growth of $224.5b thanks to increased spending on "essentials".
The positive news is that despite the drop in consumer spending, healthier retailers are increasing the amount of IT spending as a percentage of their revenue to take advantage of lower interest rates and favorable terms from vendors.  In fact, there is a window for several retailers to deploy solutions under the guise of "safety" that would in previous years only be positioned as labor saving solutions.  These range from POS, self-checkout, mobile devices, electronic shelf labels and robotics and touchless solutions for items ranging from payment to delivery.  As well, optimization of customer journeys are increasing the speed of deployment in numerous supply chain solutions.  And finally, data and analytics, along with video, edge computing, voice technologies and microservices-driven architecture are seeing great growth.
At the segment level, Hospitality is seeing the greatest reduction in IT spend with a 14.4% drop in spending for 2020 over 2019 levels.  For General Merchandise Retailers like Apparel, Department Stores and Hard Goods Retailers, the drop is 9.27% worldwide.  And the Food/Drug/Mass Merchants and Warehouse Clubs are experiencing a 5.5% increase in IT spend for the year over previous levels.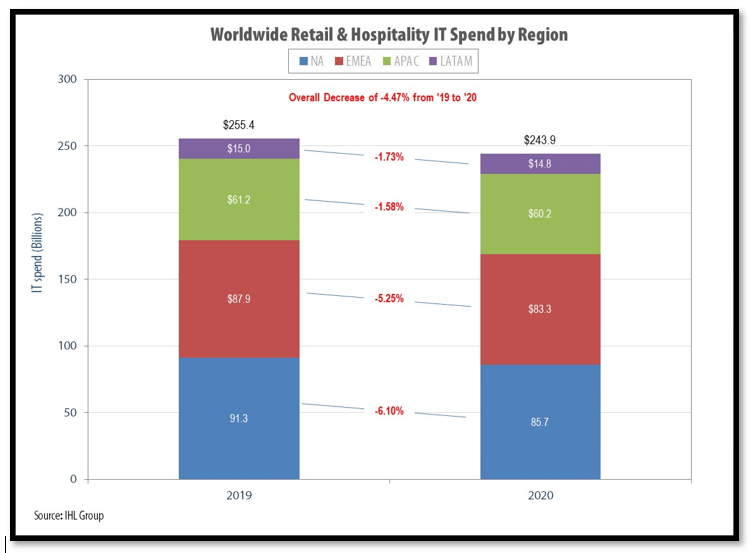 In total, while retail sales will drop nearly 10% for the year worldwide, the drop in IT spend is projected to be only 4.47% lower over 2019 levels according to IHL's WorldView Forecasting Model.  This is $11.5b less than in 2019.  IHL forecasts this spend will rebound significantly as soon as a vaccine is approved.  It will be a painful period, but the retailers that remain will be leaner and more efficient going forward.
WorldView is IHL's forecasting model for IT spending for over 300 different technologies ranging from Business Intelligence/Analytics, to Marketing/Sales, to Supply Chain Solutions, to Ecommerce to Store Solutions.  The system forecasts technologies in SaaS, Software, Services and hardware by segment and region of the world.  For more information and options, click here.
If we can help with any of the underlying data, please contact us.
If you liked this post, please consider tweeting it or sharing on LinkedIn on the share bar above.  We so appreciate it.  Thanks.
Like this post? Never miss an IHL Research Briefing by signing up here for free