The Greatest Wealth Transfer in the History of Retail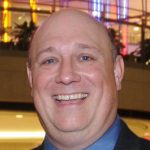 Jim Cramer of CNBC said it, but we were first.  For those of you who have followed our economic updates for the last several months we are have been harping on the business inequities that have happened in retail and hospitality due to the pandemic and how this favored large big box retailers.  Just this past week Cramer started with the same mantra, stating that the pandemic has produced one of the greatest wealth transfers in history.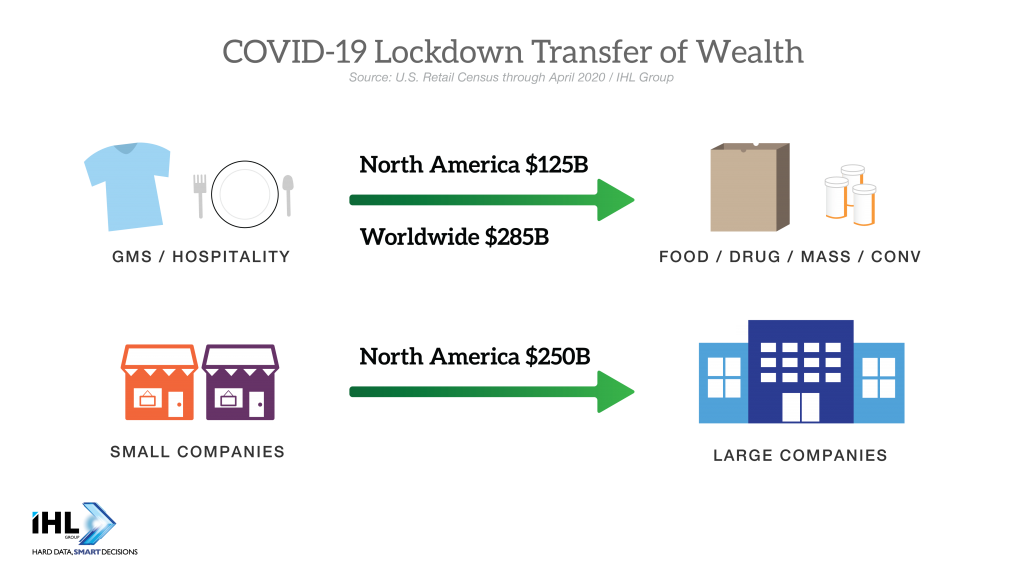 We would argue the pandemic is the single greatest wealth transfer in the history of retail worldwide – EVER – a decade or more shift in 2 months or less. 
This shift is two-fold.  First, it is the push of revenue from general merchandise retailers such as clothing stores and hard goods to grocery, mass merchants, warehouse clubs and online.  In total, $125b in North America and $285b worldwide have shifted from so called "non-essential" retailers to "essential retailers" due to surge buying and subsequent lockdowns.  The shoe store was shut down an average of 60 days, but the retailers that sold food, clothing as well as shoes could continue to operate.  As a result, they saw a surge in their business while the retailers who owned only one category suffered. We haven't seen a shift this great since the decade of the '90s when Walmart grew from 4 Supercenters to 2,000.  But it took 10 years. 
This wealth transfer took only 2 months!
This shift in business by segment is a massive, but pales in impact when compared to the wealth shift from smaller retailers to larger retailers.  IHL estimates that over $250b alone shifted from smaller retailers (with 50 or fewer locations) to larger retailers due to lockdowns in North America alone, forcing over 285,000 small businesses out of business.  Walmart, Costco, Target and others were allowed to be open and sell clothing, sporting goods, crafts, education materials, and every other product in most regions while the small business was forced to shut down.  Even today in NYC, at best retailers can have curbside pickup.  These small businesses will be shut down for more than 3 months and sadly many are not going to survive.
Now this is a number that orders of magnitude higher than our friends at Coresight Research published.  Why is that?  1) We include all size retailers, not just larger retailers that are public companies or large private firms.  2) Our list of retail includes a broader view such as convenience stores but also hospitality institutions such as restaurants, hotels, theaters, museums and seasonal businesses.  Remember, over half of retail and hospitality is small retail and THAT is where the hit has been most devastating due to the pandemic.
So 285,000 small businesses lost includes all retailers and restaurants.  Restaurants have it especially tough as social distance requirements of tables being spaced out and limits on number of people in a group further challenges any profitability until they can be fully open.  As Cramer said in a recent broadcast, at 25% that means a restaurant with only 12 tables can be open with only 4.  A local theater open 25% won't even cover the power bill.  They can't survive with these limitations.
The results are tragic in every way and constitute the greatest wealth transfer in the history of retail.
The good news is things are starting to look up as things start to reopen, we will have the latest data on retail and technology opportunities in our next webinar "Retail Recovery Update – May Actuals" on June 18th at 11am EST.  Register here and if even if you cannot attend live we will send you the recording and slides.
If you liked this post, please consider tweeting it or sharing on LinkedIn on the share bar above.  We so appreciate it.  Thanks.
Tweet
Like this post? Never miss an IHL Research Briefing by signing up here for free