Amazon Buys Whole Foods – First Thoughts
The news came down today on the blockbuster announcement of Amazon is purchasing Whole Foods for $13.7billion.  Here are some initial thoughts.
10 Reasons Why This is Good for Amazon/Whole Foods?
Amazon's greatest Achilles heel right now is they are losing $8 billion a year on shipping costs. This gives Amazon 431 locations nationwide in mostly higher income neighborhoods for package pickup and returns. Keep in mind, shipping to the door is causing many problems for Amazon with theft and some apartment buildings in inner cities are now overrun with packages. The second biggest issue area of friction for Amazon is the cost and time to make returns. Finding a box, being charged for shipping if the reason for the return is not adequate…these areas cause people to think twice before buying. With this acquisition, customers can simply bring the opened box items with receipt to Whole Foods and they will take care of returning items in bulk. This removes friction from the return process and allows for Amazon to also mitigate some of the advantage that Walmart has had with ship to store (and offering discounts).
Over 70% of US Households making $112k a year have an Amazon Prime account. There is a very high correlation of these shoppers being the shoppers that go to Whole Foods.  .  There is mounting evidence that wealthier consumers are no longer choosing luxury items like cars and boats to show status, but rather leveraging healthier food choices and education options as class markers. So the acquisition provides two benefits here…1) For your most affluent Amazon customers you made it easier to return items. And 2) While you are shopping, pick up some more items or lunch. Keep in mind, the reason that buy online and pickup in store is so appealing to retailers is not only does it have lower shipping costs, but on average consumers spend 25% more when they visit the stores.
It gives Amazon a foothold in grocery – albeit high end grocery – and the opportunity to compete with Walmart and others for high margin customers through physical locations. Click and Collect brings on new meaning here.
Data, lots of data on the most preferred customers. Amazon's algorithms will be able to churn not only the online data, but have insight into what consumers buy in stores. That combination and insight is powerful when further combined to other big data on lifestyle choices. For the most affluent customers, Amazon just leapfrogged the industry in insight.
Private Label Brands – The largest benefit to any retailers is the power of leveraging private label brands. Pretty much everything at Whole Foods is private label and the Amazon Basics brands have been a great win for Amazon. Generally retailers make 2x the margin on private label brands. And when those private labels mean increased quality rather than decreased quality, that is a win-win for margins.
Frictionless payment in the lane. There is an opportunity to leverage Amazon Pay for more frictionless checkout experience. We do not believe Whole Foods will be the first to use the Amazon Go concept (There are too many items and challenges with store that size and technology interferences), but we can expect a faster and smoother checkout experience will result from the merger.
It upscales Amazon's image. We all joke about Whole Foods meaning 'Whole Paycheck', but in reality there are many who think of Amazon as only low price or great value (neither are necessarily true anymore). There is brand enhancement for Amazon here, but also risks. Whole Foods is not known for great customer service. In our research where shoppers rate the reasons for shopping at Whole Foods, while quality ranks at 84% of shoppers list as reason, only 13% note friendliness and less than 7% rate the speed of the process. Amazon can help both of these metrics. However, if they don't make this a focus, they could ultimately hurt the brand.
National footprint. Outside of Kroger, SUPERVALU, Walmart or Whole Foods, there really are no national grocery chains of size. This acquisition gives Amazon a national grocery footprint. They are not in every state, but are in more states than most of their competitors. So this is a good choice in terms of grocery because of the geographic reach.
Launching pad for drones – We only say this partially in jest. First responders are already experiencing with drones in local communities to zip defibrillators to a location for a heart attack faster than an ambulance can arrive. Retail has always been about location, location, location. The stores provide closer locations than warehouses from where to launch or deliver from…whether it is just lunch or products.
Further integration with Amazon Echo and Alexa. Consumers will be able to soon simply call out their shopping list for pickup at their local Whole Foods, further removing friction from the buying process.
What does this do to the market?
The stocks of major grocery competitors are dropping dramatically in trade today, but is it overkill?  We think so for Kroger and Costco, in particular. Yes, this ramps the competition between Walmart and Amazon but the focus is heavily on two different demographics here. There are many, many grocers. We have studied this market. When you look at the reasons people shop at different stores, the number in your favor makes a big difference in competition.
In some recent research, the ONLY thing that Whole Foods customers rated highly was Quality. And they rated Whole Foods very low on every other dimension. In fact, of the 6 metrics, here is how some major retailers compare (This is why customers shop their stores).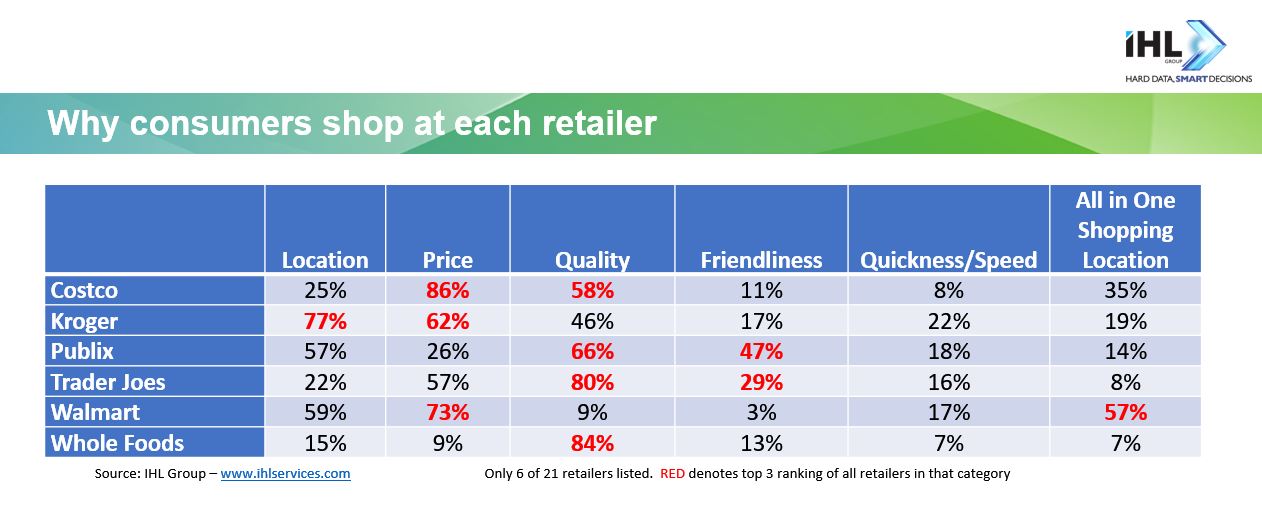 *** If item is in RED it was top 3 highest rank of all retailers studied – Only 6 of 21 retailers shown.
The higher the percentage for each customer for that quality and number of qualities with higher ratings, the more loyal that customer is to that retailer.  Note that Whole Foods only ranks high in Quality and low in every other area.  Publix is in top 3 of Quality, Friendliness and one of the highest in terms of location.  Costco and Trader Joes rank high in Price/Quality or otherwise on value.  Kroger has location price and higher than average on quality.
As noted there were 21 retailers that we measured. It is not the ones listed here that will feel the brunt this entrance by Amazon, but rather others like A&P, Ahold, Albertsons, Food Lion, Giant Eagle, Safeway Shoprite, and Winn-Dixie that will feel more of the challenge.
The game has changed and the US Supermarket has been woefully underinvesting in IT, customer experience, and associate training for decades. The business model has always been made by impulse items and selling shelf-space to manufacturers. That model is changing rapidly. Those who adapt will be just fine. Those that don't will continue to be marginalized. The battle between Walmart and Amazon will just continue to escalate.
Final thought. Jeff Bezos is a master of PR.  Not only being a major investor in Business Insider and owning the Washington Post, he is brilliant at timing announcements for coopting the news cycle.  The drone story and Amazon Go stories of the last two years just happened to coincide with Black Friday weekend. It is not lost on us as analysts that this announcement just happens to coincide with the day that Lidl opens its first store in the US, Walmart buys Bonobos, and Aldi has announced a $3.4B level of investment in expanding in the US.
Game on.