What's in a name – A better POS, perhaps?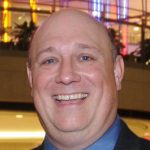 When you attend the number of events that we do at IHL, you hear a lot of buzzwords and often roll your eyes while playing Buzzword Bingo when the overused terms come up in presentations.  But every once in a while you hear a new description that actually does a better job of explaining what is happening in an area of technology than the current overused term.  For instance, Unified Commerce is a much better way to explain the massive systems integration trend in retail than the overused Omnichannel as it is comprehensive to include partners inside and external to the company required to compete with Amazon.  It acknowledges that retail is not all about you.
Here at the NCR Synergy event I heard for the first time a better explanation of what is happening in the evolution of POS.
Now the term POS is used for a lot of different things in retail such as the credit card reader, the signage at the end of an aisle and even sometimes even use it as a profane description of something that is malfunctioning.  But most often, and the way that IHL uses the term is used to define a LAN-able intelligent PC compatible cash register device.  Certainly this has evolved to mobile POS and this all works for the hardware components.  But today's POS software is vastly different and far broader in functionality than it was just 5 years ago.
The term that NCR used was Platform of Sale.  Platform of Sale is device independent, it is architecture independent, it is OS independent and is inclusive of all of the different functions that devices in the store are required to do.  POS is no longer simply about the scanning and ordering only what is physically in front of the cashier.  It now is composed of those function but others such as loyalty, save the sale, ship from store, click and collect and so many others.  Retailers can no longer be satisfied with their father's POS and thrive in a retailing world changing as rapidly as we are seeing today.  This new term explains the functionality in a much better way than simply using the same old term.
Now NCR is not exclusive in these offerings and certainly not the first to offer it as a cloud offering as they are for hospitality, they were just the first to use this new term…one that brings a better description.  We'll see if this catches on like Unified Commerce.  Platform of Sale….I like it.