Pursuing Unified Commerce Without Sacrificing Security
Without question, the single biggest trend in retail is in the area of Unified Commerce; namely getting both internal and external systems integrated in such a way that product can be shopped from anywhere and delivered from anywhere.  Retailers are scrambling to figure out how to best compete against Amazon, and leveraging their store experience is a key potential advantage if the right experience can be created.  A significant part of building that experience is by integrating the IT systems that have traditionally been in siloes.
This webinar, in conjunction with AT&T discusses the latest trends of Unified Commerce, the reasons why as well as options to do this securely.  Every one of these systems connections as well as store level Wi-Fi are potential security holes if not planned correctly.  This webinar with Jeff Roster of IHL and Paul Rombach of AT&T addresses these issues.
Click below to launch the webinar.  For more information on AT&T Solutions in this area connect to
http://www.business.att.com/.  For more information on IHL Research, see the following research and advisory options here.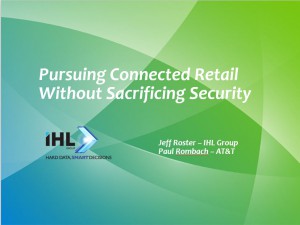 Click photo to launch webinar or click here