Roadmap to Unified Commerce
As retailers move towards Unified Commerce, knowing where to start is critical. False starts can set retailers back years and waste millions of dollars.
Do you know how to do things in the right order, avoiding the false starts that plague IT projects in retail?
This webinar brought together three people working at the forefront of the Unified Commerce challenge.  Jeff Roster, VP of Retail Strategy at IHL, Michael Martin, VP of Financial System Intitiativesat Sodexo, and Dan Grady, Principal of C-CORE Consulting Group share real experience and real help.  Click below to see the recap.  To learn more, contact us.
Roadmap to Unified Commerce Slide Deck (No Audio)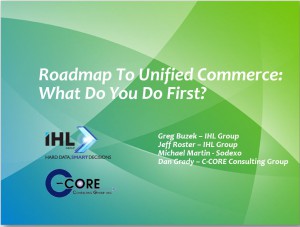 Click above slide to launch webinar video recap.