3 HUGE Mistakes Companies Make at NRF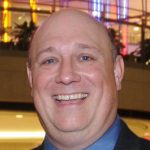 Every year vendors naturally spend lots of time, energy, and money setting up booths, demos, and having parties around the National Retail Federation Big Show. Why not, this is where the customers are. But much of this investment never reaches its full potential because they neglect to take some simple steps that can turn their event from a good show to a GREAT show. And truly, its the difference in selling computers like a typical consumer electronics store or how Apple shows off their wares and makes 5X the sales per square foot of the typical competitor. What are these mistakes?
MISTAKE #1 Not setting up the meetings pre-show.
Those vendors that take a build it and they will come mentality at NRF are dooming themselves to failure. (Unless you set up a foot massage station then you can be a big hit). You really need to approach your targeted prospects, analysts, and media so these meetings are set up BEFORE the show. The time is now to be making these appointments. I cant speak for the retailers in attendance but I know as analysts we are each scheduled in 12-20 meetings from 6am midnight for 3 days. Its crazy. There is no time to walk up to a booth unless it is scheduled time. OK – shameless plug time. To help with prospects, IHL has created a targeted list of likely attendees to the show called Sophia Knows Your Trade Show where we reversed engineered the NRF attendee list to help set up those meetings. (not endorsed by NRF in any way). A second option is to work with the Retail Orphan Initiative in their booth promotions and have press, analysts, and retailers help promote your booth for you. All the proceeds go to help vulnerable children in need. For more information, contact greg(at)retailroi.org
However you do it, make sure your NRF meetings are scheduled in advance.
MISTAKE #2 Incomplete Demos
This one is incredibly frustrating. When prospects, analysts, and media do show up at the booth, often in scramble to get a new product going the demo is half-baked. It is missing real data that shows the real functionality of your systems and what they can do. This is particularly true when it comes to showing off your secret sauce. As a group we report and analyze, we dont brainstorm well in that environment you have to show us. Take a lesson from Apple here. Every one of their products not only has a running demo, but the apps are live and fully functional. The photo albums are filled with amazing pictures. What makes you special? Make sure there is enough data in there to really help your system shine. If possible, see if a client will allow you to use a couple of hundred or thousand records that you can customize to show off real sales, real basket analysis, real back end reporting. Trying to leave it to the visitors imagination to think about all the system can do is a recipe for failure. I have seen more vendors fall on this point than any other. They spend up to $1 Million around the show on dinners, sponsorships, but blow it in the core demonstration. And related, make sure you really show off what it is that is your secret sauce and any active customers if possible. REAL means a lot, and nothing stands out more than your secret sauce. Make it memorable. We are going to see 10-20 solutions showing the same basics with the same buzzwords, its hard to remember it unless you take the time to stand out. And that last yard in the demo is HUGE.
MISTAKE #3 Not having handout for Press/Analysts
This is one I have harped on for years. As mentioned earlier, the typical analyst/media person has more than a dozen meetings every day and even the best of us come away from the day with our minds jumbled. You give the same presentation 20 times. We hear 20 different presentations but they all sound the same. (I think Janet Sherlock holds the record during her tenure with AMR Research at 21 scheduled meetings in day. No wonder she went back to a CIO position!) So having a 1 pager that are the key messages you want us to go away from our time together is crucial. Even better, send it again the week after the show so it is reinforced in our minds when we are writing our recaps of the show. I think the best interaction explaining this phenomenon happened after midnight on the top of the Marriott when Jim Crawford asked me what I saw today. I saw 20 things that could change the world, but I cant remember a single one. Thats the life of an analyst or media member at NRF. If you want to grab the attention of these influencers, focus on your secret sauce, forget the buzzwords (we will hear Big Data, Mobile, Analytics, and Omnichannel in every meeting), and tell us/show us what makes you special and who is using it. Thats what stands out. And if you can, schedule a pre-brief or post-brief. DO NOT dump a big press kit or give us a USB drive filled with press nonsense. There is not enough time in the day. The press kit will end up in the garbage and the USB drive will be used for a kids project at school. A 1 pager, focus on your strengths, and follow-up soon AFTER the show.
Its not rocket science, but if you avoid these three mistakes your chance for a great show is greatly improved. Its about going that last yard. Have a great show!